Our Two Most Popular Canoe Rental Packages.
See Twitter feed below for last minute deals, availability, and updates.
Day Trip: Devon Bridge to Edmonton - Only $130 Total includes GST - Saturday, Sunday and most holidays 8:00 AM
Scheduled trips every *Saturday and Sunday*, Bus departs from the boat launch at Sir Wilfrid Laurier Park - we drive you to Devon, you canoe back to Laurier Park.
skill rating: Novice/beginner, 5-6 hours casual paddling downstream, suited for couples, families, staff parties, Bachelor(ette), team building, and tourism groups up to 20 canoes (40-60ppl).
Includes: Canoe, paddles, safety gear, transport for **two people per canoe**
This canoe day-trip is very scenic and peaceful, ending in the heart of the world class Edmonton river valley.
*WEEKDAYS: Only available by special appointment, only for large groups.

**Extra person(s) Transportation, includes PFD $30
Overnight Trip: Genesee Bridge to Edmonton - Only $260 Total includes GST - Saturdays 8:00 AM
Scheduled most Saturdays at 8:00 AM, leaving from the boat launch at Sir Wilfrid Laurier Park, we transport you to the Genesee Bridge. Set up Camp on crown land (almost anywhere you like) along the river. We do Friday evening departures for those who want the extra time out there. The trip takes about 13 hours on the water, you can camp over for 1 night or 2 nights. Includes: Canoe, paddles, safety gear and certified transport for 2 people*
*Extra person(s) transportation, PFD $40
**Use your own canoe shuttle service, from $140 shuttle 2 people from Laurier Park to Genesee Bridge
All Reservations Require 50% Deposit by Cash, Cheque, or Email Money Transfer.
PLEASE SEE FAQ BELOW for questions about deposits, cancellations, Etc -- More Packages Options Here
Frequently Asked Questions
Q. BAD WEATHER, RAIN, ETC. cancellation policy?
A. Bookings are RAIN OR SHINE, NON refundable, NON transferrable, however, we will make all attempts to rebook another customer and then refund your deposit, regardless of this policy. *SEVERE weather days will be rescheduled as available. *winds over 50Km, sustained thunderstorms, hail, intense rain, ETC.
Q. How much notice, and what about deposits?
A. Bookings are first come, first served, as available. Booking deposit of 50% required paid by cash, cheque, or EMAIL MONEY TRANSFER. Deposits are NON-refundable, NON-transferrable, except for SEVERE weather/wind.
Q. VISA,MC,AMEX, etc?
A: We DO NOT accept Credit cards.
Q. Can we bring our DOG?
A. NO, you will be sharing transportation with other groups, due to unknown allergies and tolerance levels, it is not fair to the other parties.
Q. How long have you been doing this?
A. Since July 1996, After a suggestion from my Dad.
Q. Is the North Saskatchewan River safe as far as water quality is concerned?
A. Yes, the river is safe for recreational use. There are many myths regarding the water quality and content of the North Saskatchewan River. The main reason the river may look "dirty" is because of the silt being stirred up by the flowing water.
Q. Is there an itinery to follow?
A. Our trips are unguided, and not supervised. We estimate all times with casual paddling, some paddling is required.
Q. How long does the Devon - Edmonton canoe trip take?
A. On average the trip takes approximately 5 - 6 hours. The water flows at different rates depending on melt water, rain, and flow through the Brazeau and Big horn dams. Trip time can vary greatly, with flow rates, wind and paddling effort. We expect you to do some paddling, extra time is not included.
Q. Are there longer trips than one day?
A. Yes, we can arrange custom trips specifically suited to the amount of time you have to spend on the river.
Q. Can we put more than two people in a canoe?
A. Yes, however, There are space concerns, usually 1 extra adult or two small children is still comfortable.
Q. What days and times do your trips depart?
A. We run regular scheduled trips SATURDAY and SUNDAY and most holidays. Please Contact Us with scheduling questions.
Q. What equipment and services are provided with your trips?
A. We supply 1 way transportation, canoe*, PFDs, paddles, bailing device and 50 foot floating rope (throw bag), included in package prices.
*Shuttle only services available for canoe owners.
Q. What do I need to bring on the canoe trip?
A. Drinking water, a hat and sunscreen are essential. Old shoes, bagged lunch, food and beverages. It is a very good idea to bring both warm weather clothing and something a little heavier in case of inclement weather, rain gear is always good to have with you. Swimwear is a good idea, the water upstream of Edmonton is ideal for cooling off. Cell phones, cameras etc. should be stored in a water proof container or zip lock bag, we take no responsibility for your gear.
Q. Can we get lost?
A. No way, there are no navigational decisions to make in this part of the North Sask. river. This is a Beginner trip.
Q. What level of canoeing experience is recommended for the trips you run?
A. Our regular trips are all on a novice area of the river. We recommend that you be comfortable on water, and always wear PFDs
Q. Is there a limit to how much I can bring with me on the trip?
A. Canoes do have weight restrictions (700-1100 lbs plus depending on model), so yes, there is a limit. Also please remember, weight slows you down.
Also Important - Please Note:
Weather POLICY: ALL Bookings are Rain or shine, with the exception of severe weather or wind. (operator discretion)
Deposits Required to book are non-refundable, severe weather bookings rescheduled subject to availability. (operator discretion)
Shuttle Service price does not include the canoe and equipment rental.
PACKAGE prices include transportation for 2 ppl, 1 canoe rental, paddles, PFDs, safety gear.
The samples are of various trips we have available, we can create custom trips based upon the amount of time you wish to spend on the river.
All times given here for trip duration are approximate please allow yourself extra time.
We meet at the boat launch at Sir Wilfrid Laurier Park (Beside the Valley Zoo) unless other arrangements are made for your trip.
In order to provide you with a personalized, flexible service our trips are scheduled by pre-arranged bookings and times available are based on a first come first served basis.
Our prices are based on 2 people in each canoe, if you would like to add an extra person to your canoe, there will be a $30.00 transportation charge for all single day trips for each extra person ($40 for 2 day trips)
PACKING: WHAT DO I NEED TO BRING ON THE TRIP?
+ drinking water
+ a hat - sunglasses
+ sunscreen
+ rain gear
+ a change of clothing
+ an extra pair of shoes
+ a dry bag for these items is a good idea
+ food (some people bring a small cooler = Ok!)
+ a bag for your garbage
+ Electronics should be in zip lock or other water proof bag
Canoe Rental Packages
1 Day Trip - Saturday 8:00 AM
DEVON >> Laurier Park
time: approx. 5-7 hours
$130 for one canoe with 2 people including shuttle
2 Day Trip - Saturday 8:00 AM
Genesee Bridge >> Laurier Park
Duration: approx. 13 - 14 hours on the water*
$260 one canoe with 2 people including shuttle
*note; many Fridays have dinner time departures available, $20 per canoe custom scheduling fee may apply
2 Day Extended Trip
Starts approximately 1 hour above the Genesee Bridge PRIVATE ACCESS >> Laurier Park
CANOEHEADS NEW SECRET SPOT, please ask me about this exciting new drop point, camping, private BEACH opportunity
Duration: approx. 13-14 hours on the water
$300 total one canoe with 2 people including shuttle (includes daily access fee by the land owner)
*Requires approximately 50 meter portage.
*Overnight camping, add $20 per canoe (land owner fee includes firewood)
3 or 4 Day Trip(s)
- Berrymore bridge- 20+ hrs $350 one canoe with 2 people including shuttle
- Drayton Valley- 25+ hours on the water $400 one canoe with 2 people including shuttle
Shuttle Only Services - Use your own Canoe!
Save the Hassle of driving yourself.. 8-)
TRANSPORTATION FOR 2 PEOPLE, FROM LAURIER PARK TO:
DEVON BRIDGE
$70 one canoe or 2 Solo kayaks
GENESEE BRIDGE (excellent weekend trip)
$140 one canoe
Tomahawk,Drayton Valley,Rocky Mountain House,Nordegg, etc. please inquire for quotes, based on number of canoes, fuel prices and driving time.
1/2 Day LARGE GROUP Trip (12 Canoes)
Laurier Park >> Goldbar Park (City Tour)
time: approx. 3 Hours
12 canoes up to 36 people or 20 canoes up to 60 people includes shuttle
IF YOU DO NOT SEE WHAT YOU WERE LOOKING FOR.. CONTACT US to ask about custom trip plans!
About Us
EST. July 1996, Canoeheads has been running this popular canoe rental/shuttle service on the North Saskatchewan River based out of Edmonton, Alberta, Canada. We enable a fun, inexpensive and hassle-free adventure for couples, families and tour groups. We are knowledgeable, friendly and reliable. We trust that you will find value and convenience in our service, and hope that you will give us a try next time you think of canoeing.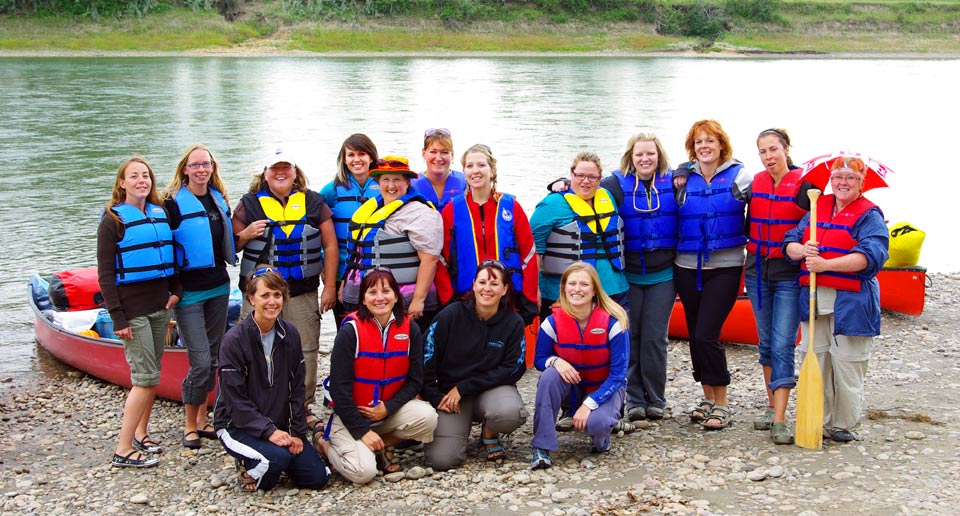 Thanks!
Jason Hayes
Owner / Operator
CanoeHeads
Phone: 780-481-6044 Evenings are best time 4-9pm